I starting reading on the day of its release. I read it first on my Kindle, then listened to the audiobook. I loved it, of course. I expected nothing less since I have loved every book in the series. When, a few days ago, I decided to listen to the audiobook again, I expected it to be more nostalgic than exciting. I had, after all, read it twice before. Or had I?
One of the signs a book may actually deserve  the label "classic" is when rereading it is like reading it for the first time — but better. I was suffering from a touch of literary ennui. It seemed rather soon after my initial readings to read it again, but I was hungry for a rich book, one that settles into your brain like good chocolate melts in your mouth. All my recent reads seemed derivative and flat. They weren't bad books, just nothing special.
I needed a Kim Harrison fix. I settled in, clicked play and sighed. I was barely past the first few paragraphs when I felt myself being drawn in. It was as if I'd never left. I was back in the Hollows, home in magical Cincinnati and the church where Rachel, Ivy and Jenks live. My friends were waiting for me.
Ever After was new all over again. I relived the adventure, relishing each twist and turn of the plot, each character's development. I was happy for Ivy, finding her own life at long last but sorry not to have her with me on this journey. Glad that Jenks was still involved and Biz is coming into his own. Delighted with the direction of Rachel's relationship with Trent, sad at the loss of beloved characters. Bemused at the changes and growth in the world of demons as they evolve from caricature bad guys to people with memories of better days, their own private griefs and joys.
I kept discovering new layers to the story I had missed. I could barely bring myself to stop listening and go eat dinner, celebrate my birthday, or sleep. This is a great book. I know it's genre urban fantasy but it is far superior to most writing …  in any genre. The consistent, careful development of characters and plot are outstanding. Kim Harrison never drops a stitch. Knowing  something about Kim Harrison's process has given me a better understanding of how she achieves this remarkable, near-perfect construction.
It's no mystery. She works at it. She is an extremely focused, precise writer who plans every aspect of every book she writes. This is no "off the cuff" writing. She doesn't depend on obvious answers nor use typical genre clichés.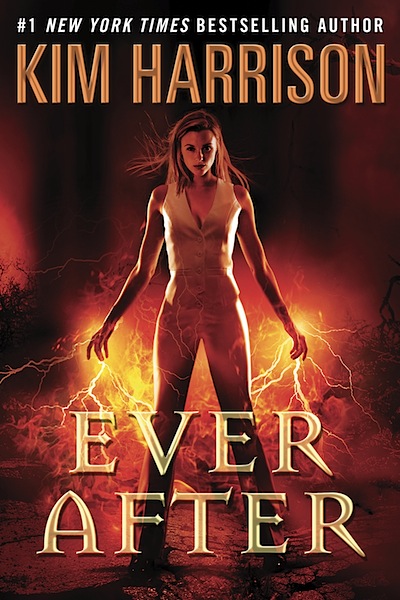 There's nothing raw or unfinished. Ever After would be a fine novel be any standards. If it weren't urban fantasy, it would be taken seriously as literature. I'm hoping a time will come when the prejudice against fantasy — and the still lingering prejudice against science fiction — will disappear, and Ms. Harrison's books and those of other quality authors will get the respect they have earned.
In my opinion, most of today's creative authoring is happening in fantasy and science fiction. General fiction, of which I have read a great deal this year, is a drab place. Very little new territory is being explored in the "serious literature" area of the book world. If you want to read something that'll knock your socks off, visit another genre.
I have heard a lot of complaints about the popularity of science fiction and fantasy, that people don't want to read anything that doesn't have supernatural creatures or time travel as part of the plot. But those who complain might consider the paucity of good books coming out of "main stream" fiction. It doesn't have to be dull, but it so often is. And bleak. And depressing. It's no wonder that many of us don't want to go there.
The thrill of reading isn't gone but it has just moved to a different part of town. Read Jim Butcher's Harry Dresden series and check out Kevin Hearne's Iron Druid series. Discover Carol Berg. Pick one of her books or series; you can't go wrong. Move right into the book world with Jasper Fforde's Thursday Next series. If you haven't already read it, Stephen King's 11-23-62 is one of the best books of the decade and it's pure science fiction. Try reading some of Connie Willis' ambitious works — Blackout and All Clear spring to mind, or discover how wacky science fiction can be with Bellwether or All Seated On the Ground. This is area of fiction where creativity is running riot. You'll find books to entertain you and fill your mind with ideas. And you won't be bored, not for a moment. There are lots more wonderful writers waiting for you to discover them. It's not a whole world. It's many worlds and they are all yours to explore.
Ever After was among the most satisfying reads I've had in several years. It scratched all my literary itches. There was magic, love, passion, battles. There were complicated relationships, love in bloom, hope, loss, and desperate danger. I mourned the fallen, exalted for the living and dreamed about the future. It's not the only good book I've read recently, but it sure is among the top few.
If a witch, an elf and a demon can come together to save the world, anything is possible.
-
Related articles