See on Scoop.it – Movies From Mavens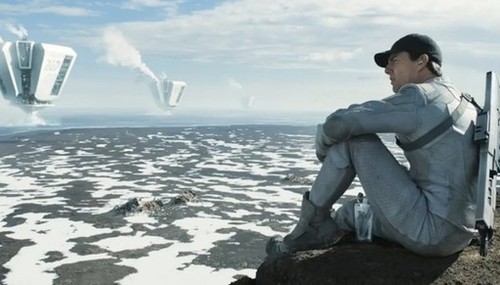 The arrival of the spring marks the slow roll out of the big budget tent pole movies into multiplexes across the globe. Big budget sci-fi epics are really a dicey proposition even at the best of times as they tend to be populated with some of the pickier fans out there. "Oblivion" takes us to a point in the future, where the planet is ravaged after a cataclysmic war and the human race is doing whatever it can to survive.
Jack Harper (Tom Cruise) is one of the last drone repairmen stationed on Earth. Part of a massive operation to extract vital resources after decades of war with a terrifying threat known as the Scavs. Jack's mission is nearly complete and he and his partner Victoria (Andrea Riseborough) will get to join the remaining survivors in their new home. However when he rescues a beautiful stranger (Olga Kurylenko) from a downed spacecraft, , he begins to question everything he knows.
A great vehicle for Cruise but it could have used some script work… Photo credit:  skiny.net
Co-writer and Director Joseph Kosinski certainly has an eye for the genre, as "Oblivion" is a stunning and bold looking film that doesn't shy away from painting a big picture filled with sweeping yet barren landscapes and stunning cinematography, sadly the script could have probably used as much effort put into it as the visuals did. The narrative dragged in several parts with dialogue that ranged from clunky to downright laughable as the filmmakers were manufacturing much more melodrama then was actually necessary. It made it hard to generate a genuine connection with the characters, everything was insanely beautiful but much like the scorched earth that the characters were maintaining and protecting it was also incredibly sterile as Kosinski and company borrowed imagery from at least half a dozen of the more popular sci-films from the past 30 years. Stylish and wonderful, but not exactly ground breaking almost playing like a greatest hits from the genre that tries far too hard. Thankfully there are some still some familiar faces to keep us engaged as an audience.
Tom Cruise too often gets a bad rap for being a substandard actor, but to be perfectly honest when is the last time anybody has seen him perform in anything truly terrible? We simply haven't since he works as the solid, brooding everyman kind of hero and holds his own in this character driven humanistic sci-fi drama. Andrea Riseborough is a consistently under rated actress how more than holds her own opposite Cruise and they have excellent on screen chemistry. Olga Kurylenko is a classic beauty in the Hollywood mold who will manage to always look at home in a genre or action movie setting. She is slowly but surely coming into her own as a leading lady and if she keeps her career trajectory moving in the right direction, there will be nothing but good things ahead. Melissa Leo, Morgan Freeman, Zoe Bell and Nikolaj Coster-Waldau round out the ensemble but are all fairly wasted, adding little to nothing to the overall narrative.
"Oblivion" isn't a bad film by any stretch of the imagination, but with a weak script that leans on too much manufactured melodrama and a plethora of borrowed imagery it isn't necessarily all that great either. Worth a look if you feel like getting roped into seeing in glorious and expansive IMAX as Joseph Kosinski is certainly a huge visual talent but he just hasn't nailed down the storytelling aspect of filmmaking quite yet.
Marilyn Armstrong's insight:
There have been some pretty good sci fi movies recently. I'm grateful. It was a very long drought!
See on www.examiner.com
Related articles
---
---
Categories: Celebrities, Entertainment, film, Media, Movies, Reviews, Sci Fi - Fantasy - Time Travel