See on Scoop.it – Forty Two: Life and Other Important Things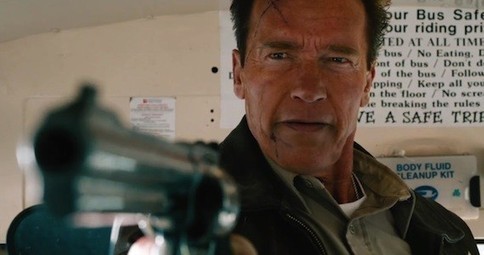 The action is hot and heavy on store shelves this week as a truckload of new releases are becoming available for the couch bound movie watcher. "The Last Stand" is a gonzo action flick that marks the return of one of the biggest action icons of the 20th century to the big screen.
As sheriff of a sleepy little town, Ray Owens (Arnold Schwarzenegger) who is now semi-retired after years in the LAPD narcotics division has never had a lot of action in his new post and that's just the way he likes it. However that is all about to change when drug lord Gabriel Cortez (Eduardo Noriega) busts out of FBI custody and makes a beeline for the border at 200 mph in a supercharged corvette and makes the mistake of running into Ray and his inexperienced deputies who will defend their small town at any cost.
Debuting to North American audiences for the first time, director Kim Jee-Woon brought a frenetic sense of energy and fun back to the R rated action movie that people just didn't seem to connect with. That being said they really should have as this film kept the action going at a fantastic pace as we jump into this universe that while admittedly is filled with a little bit of corny dialogue, knows exactly what it is doing. Jee-Woon doesn't mess around with exposition anymore then he absolutely has to and brings a lean and mean sensibility back to the action genre that we haven't seen since the 1980's. All the while with a script that has its tongue firmly planted in its cheek, only asking us to strap in and go along for the ride. Rather than try to be taken dead seriously, this modern-day western just wants us to have a little fun with it, and this ensemble cast knows exactly what kind of film that they are trying to deliver on and they do not disappoint.
In his first leading role since 2003 due to his term as governor of California, an older and wiser Arnold Schwarzenegger brings a certain sense of self-deprecation to the role of Ray Owens and it works to perfection. It's no secret that he is a 66-year-old man, so the occasional old joke while kicking ass and blowing people away fits the tone of the film like a glove and even years away from the leading man roles, with the right material Arnold still proves that he can carry a picture. Eduardo Noriega chews the scenery as well as anyone as our renegade drug lord and the likes of Luis Guzman, Forest Whittaker, Rodrigo Santoro, Johnny Knoxville, Genesis Rodriguez and Peter Stormare populate this story with a wide array of scenery chewing characters making for a frenetic R rated action romp that we can still get a good laugh out of and there isn't a damn thing wrong with that.
The picture and sound quality on the Blu-Ray are absolutely first-rate and the special features on the Blu-Ray include deleted and extended scenes, a making of "The Last Stand", behind the scenes looks with actors Johnny Knoxville and Jaimie Alexander and much more.
At the end of the day, I am the first person to acknowledge that "The Last Stand" just might not be for everyone. However, if you miss the lean and mean violent action thrillers of the 1970's and 80's that still had a little bit of gleeful wit to them, then you owe it to yourself to pick up a copy of this piece of action gold that will inspire you to pop the popcorn, and revel in the ride that the film takes you on.
"The Last Stand" is now available to rent on DVD, Blu-Ray and via On Demand from all major providers, you can also find it available for purchase from all major retailers.
Don't forget to subscribe to my feed above or follow me on Facebook and Twitter as the Pop Culture Poet for all the latest and greatest news and reviews from the world of entertainment.
Marilyn Armstrong's insight:
See on www.examiner.com
– – – – –
Related articles
---
---
Categories: Celebrities, Entertainment, film, Media, Movies, Reviews, Show Business, Video