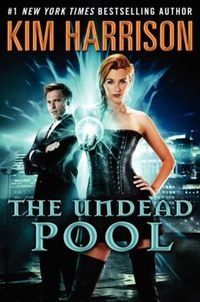 Reviewed by Annie Tegelan
Posted January 1, 2014
Paranormal
Welcome back to the Hollows! In THE UNDEAD POOL, the twelfth book of the series, Kim Harrison gives readers exactly what they have been wishing for.
Witch and day-walking demon Rachel Morgan has a new set of problems wreaking havoc on Cincinnati. Spells are misfiring everywhere, but the origin of the glitch seems to be her ley line. Which makes Rachel responsible for cleaning up the mess. The timing is bad, to say the least. The union of humans and Inderlanders is shaky and Rachel wonders if this task is too big even for her. With undead master vampires in the mix, it could become war. There's no time to waste.
If things aren't sufficiently complicated, there's the ongoing, always tentative relationship between Rachel and Trent. They've been dancing around it for what seems — forever? As they circle one another, giving hints and kisses, readers are on the tenterhooks while Harrison addresses the burning question: "Will Rachel and Trent finally get together?"
Harrison's writing and amazing world-building are second to none. It's no wonder this series has gained such a passionate following. The characters continue to grow, the world is constantly changing — and the plot in each book feel fresh and new. THE UNDEAD POOL is without question the best of the series!
In Pale Demon, Rachel Morgan saved the demon's Everafter from shrinking and ultimately disappearing. But it came at a high cost. Strange, dark magic is attacking Cincinnati and the Hollows. Spells backfire or go horribly awry. The truce between Inderlander and human is breaking up. Rachel must stop the dark necromancy before the undead vampire masters — those who keep the rest of the undead under control — are destroyed bringing an all-out supernatural war.
Rachel knows of only one weapon with the power to ensure peace: ancient elven wild magic.  Which carries its own perils.
And painful experience has shown Rachel that no good deed goes unpunished . . .
Marilyn Armstrong's insight:
My favorite series is drawing to a close. This isn't the final book. There will be one more ( I keep hoping for even more). In the meantime, I'm experiencing advance withdrawal pangs!
See on freshfiction.com
---
---
Categories: Book Review, Books, Entertainment, Fiction, Sci Fi - Fantasy - Time Travel, Supernatural