See on Scoop.it – Movies From Mavens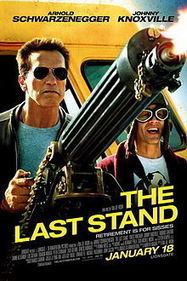 Starring Arnold Schwarzenegger, Forest Whitaker, Johnny Knoxville, Rodrigo Santoro. Jaimie Alexander and lots of other people, this is absolutely the best movie ever made by a former governor of California. Or any former governor.
I'm not a very intellectual movie reviewer. That's just as well, since there is nothing intellectual about this movie.
It's pretty good. Lots of shooting. Blood spurting. Vicious bad guys. It has the grace to not take itself too seriously, with enough humorous moments and entirely predictable but nonetheless funny lines to make it easy to watch.
"I'm The Sheriff!" growls Arnold and by golly, he is, though Garry and I simultaneously pointed out that he used to be The Governor.
There are a lot of car chases … or maybe not really chases. More accurately, it is exceptionally good stunt driving. They actually did some stunts I've never seen before and I really thought I'd seen them all.
Plot? Oh, right. Plot. Okay. Think "High Noon" with a strong whiff of "Terminator." Or any western movie where the sheriff stands up to some incredibly evil guys and whups their collective asses with the help of his faithful deputies and one old lady with a shot-gun. You'll be glad to know that Arnold Schwarzenegger, senior citizen, ex-governor gets shot, stabbed and beat up, but walks away proudly in the end. Not into the sunset, but into the local diner. Irv's Diner. Killing people and catching malevolent drug lords gives him an appetite. I'm just sorry I forgot to buy popcorn. It's a beautiful, deeply touching, moment.
If you need a violence fix, this is a pretty good choice. It's well made. Moves right along. Some great artillery and the aforementioned stunt driving.