I woke up in the middle of the night with this music in my head. So, here it is again. For me, this is haunting music. and sometimes I really need a fix.
Animusic is music made visual. If music can be seen as well as heard, ANIMUSIC makes it so! Enjoy! I own several of their DVDs and they are wonderful. You can visit their website and see what's available. The kind of music varies from classical to hard rock to "hard-to-describe," but all of it has the same ability to let you actually see music, every note. If you don't normally like music, you might like this because it isn't like anything else.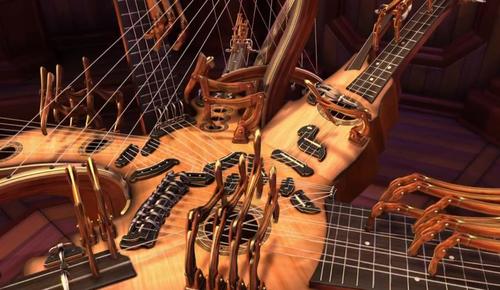 I find this piece of music haunting and sometimes, I play it over and over again and can't get it out of my mind. There's something about it. Turn up your speakers, then watch, listen and be awestruck!
Click on the graphic (above) to see the entire production.
Animusic specializes in the 3D visualization of MIDI-based music. Founded by Wayne Lytle, it was originally called Visual Music. It became Animusic in 1995.
The company is famous for its futuristic computer animations in which the music actually drives the animation so that what you see and the music precisely correspond. This is as close to "visual music" as you can come.
Although other musical animation productions exists, there are differences. The models for Animusic are created first, then are programmed to do what the music "tells them." Instruments appear to be playing themselves …  instruments that could never exist yet somehow seem entirely plausible. Many people, on first seeing an Animusic production ask if the instrument or instruments really exist. I thought it was real … strange and remarkable, but real. They are startlingly realistic. Sometimes funny, too.
See also on www.youtube.com