Puncture? I think this is one of those.
This story is not, as far as I can tell, a joke, but who knows? Half the stuff I read online is a complete lie, a partial lie, something that once held some truth but no longer does. I haven't seen this story anywhere but in "The Daily Beast." Who are usually moderately accurate, with occasional wild distortions. I'm pretty sure, though, that you could call this one "puncture," one way or the other.
---
Gunman Attacks Congressmen; 'He Was Looking for All of Us'
---
Steve Scalise, the No. 3 House Republican, was shot with several others when a gunman opened fire at a congressional baseball practice early this morning.

WRITERS: ANDREW DESIDERIO, OLIVIA MESSER – 06.14.17 8:11 AM ET
Hoax?  Maybe I should point out, per the NRA, that "it's not guns that kill people. It's people that kill people." I can't seem to bring myself to do that, so I'll just quote from the published article.
A person, with an M-1 gun, tried to kill a bunch of U.S. reps in a small suburban ball park where they practice in the morning.
Rep. Mike Bishop was standing at home plate when the gunfire began.

"As we were standing here this morning, a gunman walked up to the fence line and just began to shoot," Bishop told Detroit's WWJ radio. "I was standing at home plate and he was in the third base line. He had a rifle that was clearly meant for the job of taking people out, multiple casualties, and he had several rounds and magazines that he kept unloading and reloading."

Bishop said the gunman was clearly targeting lawmakers.

"He was coming around the fence line and he was looking for all of us who had found cover in different spots," he said. "But if we didn't have return fire right there, he would have come up to each one of us and shot us point-blank."
One of the congressman's security detail returned fire and everyone survived, though five are in the hospital
Curbelo said he would be open to the idea of providing a security detail for members of Congress who gather off of Capitol ground for events like the baseball practice.

"We ought to consider trying to provide some protection, because that's obviously a rich target for anyone seeking to kill or in any way threaten lawmakers," he added.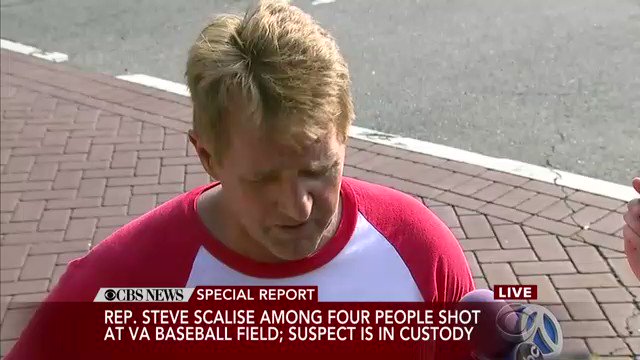 It's a whole different ball game (pun intended) when the shooter is shooting at the lawmakers. I believe the shooter, as he was dragged away was mumbling that he wanted to "get them all."
Scalise's office released a statement saying he spoke to his wife before entering surgery.

"We ask that you keep the Whip and others harmed in this incident in your thoughts and prayers," his office said.
---
I sure am doing exactly that. You never know. The incident might have knocked some sense into their heads. It's a thought.
---
---
Categories: #News, Crime and Cops, Law, Legal Matters