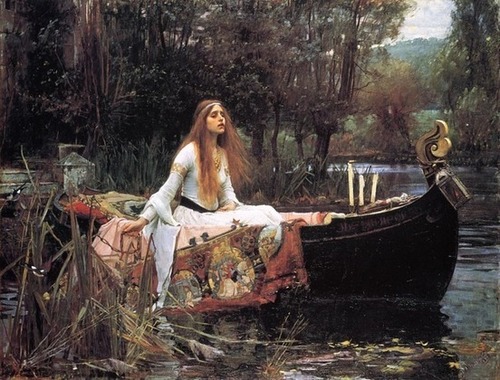 The first mention of either the Lady of the Lake or Ninian (Niniane, Vivian, etc.) is to be found in the late work Prose Merlin.  Her character remains much the same through to Sir Thomas Malory, who simply makes the story more complex.  In all the stories that name her Ninian is a fully developed character.  She is the original owner of Arthur's second sword and later becomes Merlin's pupil.
However, as with many aspects of the Arthurian literary world, there are serious gaps in reasoning with her story, and these gaps suggest a very different origin for her.  For instance, Merlin somehow knows she will betray him, but teaches her anyway.  The romances explain that he does so because he loves her, but that sounds like more of a rationalization of something not understood than a historical fact that is.
The end of her story is that Niniane does trap Merlin in a cave the moment her studies are over.  He is left there, alive (again, no serious explanation).  It certainly is not out of malice for Arthur.  Niniane takes over as his counselor for the remainder of his reign and does her best to help him.  She is also one of the four women who take him to Avalon.  That is the extent of Ninian's literary career.  Clearly, her original character and the transformation have been hidden by chance and misunderstandings.
Uinniau was a prominent ecclesiastic of sixth-century Britain who may have been Columba's teacher.  He was known as Niniane in Welsh saints' lives or Nynia by Bede.  However, much of Scotland has place-names derived from his proper name of Uinniau.  This Uinniau was known for three things mainly.  First, he was one of the most knowledgeable persons of his age.  Second, he was a great teacher who made his monastery of Whithorn was a primary center of learning in Britain.  Finally, it is known that he would occasionally go on a retreat to a nearby cave, known as St. Ninian's Cave, which was several miles away from his monastery.
Niniane would eventually became the form by which Uinniau was exclusively known.  In fact, the process must have been an early one.  Bede, writing in 725, knew him only by that name.  It was an unfortunate circumstance that Niniane was a Celtic name, and the romance writers who would treat Arthur on the continent spoke Germanic and Latin languages.  The unfamiliarity with Celtic would lead to confusion over his gender, and he became a she there.
Arthur was an attractive figure in the literature of the Middle Ages, gravitating all manner of figures, motifs, and stories to him.  In previous blogs, I have mentioned the attraction of the Myrddin (Merlin) legend and the figure of Urien.  The same sort of fate awaited Uinniau.  Long before Arthur had become a figure of romance, Uinniau's dominant name-form had become to Niniane.  For the Celtic speaker that was still a male name, but for continentals, it was female.
That change from male to female, from independent ecclesiastic to intelligent layperson was where Uinniau became a different literary figure.  Once Uinniau was a part of the Arthurian universe, his reputation for intelligence would have drawn him to the already established Merlin; in an irony of history, a lunatic (Myrddin) became the teacher of one of the best-read people of the age (Uinniau).  Once that transformation was accomplished, the latent aspects of Uinniau's memory easily made their way into Arthurian the tales, and Merlin was trapped in the cave Uinnau had used as a refuge.
I won't pretend to know how Ninian became the Lady of the Lake.  However, she would not have begun her Arthurian career that way.  She would have started off as Merlin's pupil and successor with the qualities of her historical precursor intact.  She was associated with a lake only by Robert de Boron, an author that I have discovered in my research was not one to stick with his traditional sources.  It is possible he knew of some Celtic tale which he used to enhance Uinniau's mythology.  It is equally possible he used something more contemporary.  That part of the history of the Lady of the Lake we may never know.
Marilyn Armstrong's insight:
See on: tallhwch.wordpress.com
---
---
Categories: Ancient history, History, Literature, Myths and Fables, reblog, Writing