Imagine my surprise as we were surfing the Disney channel — we are out of binge-worthy shows — to discover a show called "Sketchbook."
"Wow," I said to Garry. "They wrote a show about me." Obviously, I had to watch it.
What is it? Each show is about an artist working at the Disney animation studios and how he or she became an artist. This is followed by how she draws her character. I'm think each artist is drawing a particular character, but since I've only seen one show so far, so I'm not sure.
It was a great show — for me. I learned a lot and fast. It turned out I had figured out quite a lot of the stuff she was talking about. Among other things, she had a set of fabulous erasers. I remember saying "an artist cannot possibly have too many erasers." Well, she said exactly the same thing in the same words. But she has erasers that are small and pointy so she can get into all those wee little corners. I have to find out where to buy them. Also, whatever pencil she's using erases better than anything I'm using. I don't know if it's the pencil or the paper — or maybe both.
For anyone who draws (or is just nosy about how artists work) and would like to see it in action, this is a great show. I was surprised at how much I had figured out myself, though maybe all those years of watching my mother draw and paint might have had something to do with it. I think there's a kind of osmosis at work here.
The title of the show is "Sketchbook" and it's on the Disney+ channel. Here's the Disney+ description: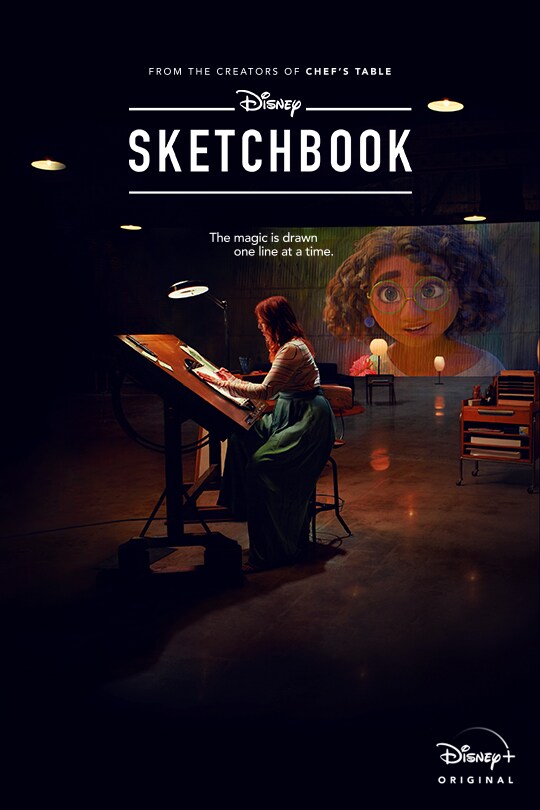 Disney Sketchbook
An intimate instructional documentary series, SKETCHBOOK takes us onto the desks and into the lives of talented artists and animators. Each episode focuses on a single artist teaching us how to draw a single iconic character from a Walt Disney Animation Studios film. As we learn the steps to drawing these characters, we also discover that the artists themselves each have a unique story to tell about how they made their way to Disney and their chosen character. From the creators of Chef's Table, this exclusive experience will give viewers of all ages a new understanding of how these beloved characters come to life on screen while introducing them to a new cast of real-life characters along the way.
Rated: TV-PG
Release Date: April 27, 2022
---
---
Categories: #Sketchbook, Anecdote, Arts, Drawings, Television, Television Review