Garry and I binge watched the entire "Star Trek: Next Generation" four years ago on Netflix. We had missed the show's initial run. 1987 through 1994 were busy years. Digging into careers. Getting married. Moving again. Watching television wasn't a priority. Netflix gave us the opportunity to catch up. So, we did, viewing two, three, four episodes each night until its abrupt and unfair demise when the production cheapskates refused to give the cast a raise.
Now that we subscribe to Paramount Plus, Star Trek has come home. It includes least a handful of new Star Trek universe shows to watch and most of them are (gasp) new! Oh the joys of streaming television and double that for anything involving space travel (or time travel) and there's some of both in Picard. On Paramount Plus, Star Trek is a genre! Oh happy day!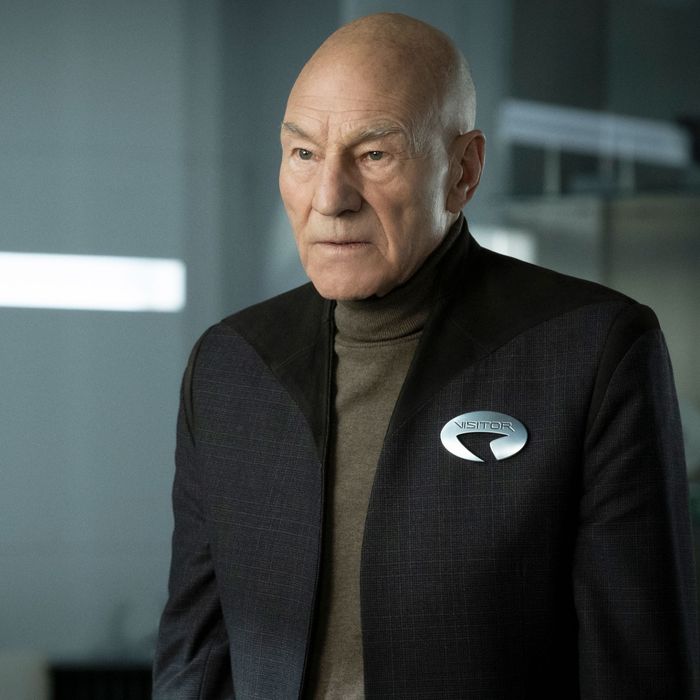 Now, about the plot. All recently-made TV shows are using a similar formula. Don't tell the audience what is going on until the middle of season one, but if you can drag it out, season two. I am teaching Garry to stop asking "I don't understand. What's going on?" He thinks I get it and he's too old to figure it out.
Don't try to figure it out. They won't tell you what's going on until they are good and ready and the beginning of the show, hopping back and forth in time and referring to older episodes of Star Trek (it really helps to have watched most of them in the past) — if you aren't part of the universe, start with earlier shows and catch up. It's more fun that way.
I don't know any more than Garry. The difference is, I don't expect to get it. I wait. Eventually, it will come together, after which I'll have a grip on the story. Patience is all. Personally, I'd prefer if they'd explain the essential outline of what's going on at the beginning. I like stories that start at the beginning, but hey, no one is paying me to write scripts.
As far as we can tell, Picard is an interstellar version of "Portrait of Jennie." With lots of tech talk. They got so heavily into tech talk last night that I realized — again — that it's classic gibberish, but SOUNDS like reality. I've been listening to it for so many years through so many TV space journeys, I believe every third word of it. Until I realize I understand it exactly as well as I understand why my computer computes and my refrigerator refrigerates. Which is to say, not.
No problem. Pass the warp drive with a side of tachyon particles. I understand their science as well as I understand anything deeply technical. Not. I understand the engines a space craft equally with basic electricity (why doesn't it leak out of the walls?) and my toaster oven.
Tachyon energy is crucial to all kinds of weaponry and fuel. They are part of what powers warp engines. Those warp engines are how ships travel at speeds faster than light. Fast enough to explore the universe. Slither through wormholes. Travel through time.
For your information, tachyon particles move faster than light. Complementary particle types are luxon particles which move at the speed of light, and bradyon particles which move slower than light. If you live in the Star Trek universe, tachyon particles are as common as dirt. Or electricity.
Effectively, life and everything in it is a giant mystery to me, yet I feel I understand it. When they talk about it, I nod because I get it. I've been listening to this mumbo jumbo for so many years, it has achieved a near valid pseudo-reality. When I look closely, there's nothing there. I understand the technology of the 24th century as well (and as much) as I understand the technology of the 21st. Unlike serving Republicans, however, I reserve this fake understanding to watching episodes of Star Trek, the 80th generation. I do not try to sell it to the entire American people.
How many of you know how the stuff you use works? Some do, but most of us know how to use devices and gadgets, but have no idea why or how they work. I know how software is designed (written), how code is written and compiled. I used to know a little coding. In the end, though, I have no idea why code does anything. Why, when you compile a program, does it do anything? It's just text. Why does it work?
---
Why does anything work?
---
Tachyon particles, warp drives, internal combustion engines, electricity, cell phones, WiFi. It's all the same. For me, it's magic. Writing code is no different than casting spells, though the theoretical results are far more entertaining.
There are half a dozen Star Treks on Paramount Plus and I am absolutely sure we are going to watch all of them. Slowly because we don't want to tear through them too fast. I once watched an entire year of Lucifer in one day with a friend of mine. I have since learned that you can actually burn out a whole streaming channel in a couple of dedicated evenings — and there may not be something coming up in which you are interested. So we go at it slowly, trying to keep it down to no more than two episode per night. Okay, sometimes three.
---
---
Categories: Humor, Sci Fi - Fantasy - Time Travel, Science, Technology, Television